Why Do We Teach Science?
An enriched science education gives children the foundations for understanding the world around them through biology, chemistry and physics. Science is continuously changing our lives and is vital for the world's future success. Children will gain an understanding of scientific methods and applying scientific principles to everyday life as well as acquiring the knowledge of different topics. As children progress through school, their scientific skills of predicting, explaining and analysing results will develop. Children will also complete a range of practical experiments which will develop their curiosity and allow them to think about how science affects our day-to-day lives.
National Curriculum Aims
The national curriculum for science aims to ensure that all pupils: 
develop scientific knowledge and conceptual understanding through the specific disciplines of biology, chemistry and physics 
develop understanding of the nature, processes and methods of science through different types of science enquiries that help them to answer scientific questions about the world around them 
are equipped with the scientific knowledge required to understand the uses and implications of science, today and for the future.
What We Cover
Below is the yearly overview for the topics being taught in science across the school. Classes in KS2 also research a famous scientist within their topics.
Early Years Science
In the early years, children will learn about their environment around them. The will be given opportunities to explore the natural environment, everyday objects and their surroundings. They will be able to explore indoor and outdoor surroundings and be given opportunities to to observe and record their findings through drawing, writing and photographs.
Science Around School - What Have We Been Getting Up To?
Thursday 5th October - Space Week
WB 2nd October it was national space week so on Thursday 5th October, in the afternoon, everyone across school did an activity based around space.
KS2 then shared what they had been learning in assembly.
31st October - Halloween Science
In the afternoon on Halloween, some classes decided to do a WOW science afternoon completing some seriously spooky science experiments.
One particularly interesting experiment involved a pumpkin, bicarbonate soda, food colouring and vinegar. Take a look below...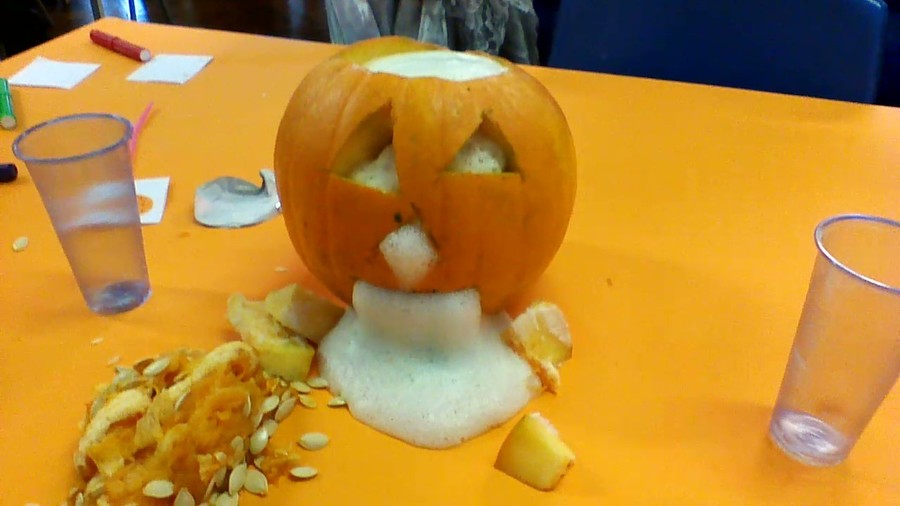 Wednesday 21st March - Heart Dissection at Grace Academy
On Wednesday, some of our Year 4 and 5 children went to Grace Academy to carry out a heart dissection to see how the heart functions. This was a new experience for our children and it was great to see them getting involved and being engaged in the activity.
Science Week - 26th - 29th March
Every afternoon this week Woods Bank have been carrying out science experiments. Let's take a look at what we have been getting up to...
Monday
KS1 - KS1 carried out WOW experiments in their own classrooms.
KS2 - Carried out wow experiments on a rota. All children completed three different mini experiments.
Tuesday
KS1 - Most classes completed a mini-beast hunt!
KS2 - Completed a science lesson based on their current topic.
Wednesday
KS1 - Completed an activity on animals and their habitats.
KS2 - Volcanoes! All classes worked in small groups to create a volcano. They then got to watch it erupt!
Thursday
KS1 - Animal group! A group called Zoo2u came to visit our school and show us some different animals. They had meerkats, tortoise, possum and an owl.
KS2 - Personal choice. Some completed wow experiments and some decided to complete an activity based on their current topic.